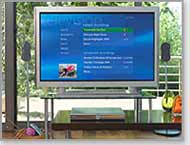 Microsoft® Windows® XP Media
Center Edition 2005
Experience more of the digital entertainment you want in your home with Microsoft® Windows® XP Media Center Media Center PCs provides a simple, convenient way to enjoy photos, music, television, movies, and more while delivering the home computing capability you expect from Windows XP.

With Windows XP Media Center Edition, you get the best version of Windows for home entertainment and personal productivity, with features that challenge the traditional concept of what a PC is capable of today whether you're interested in having more fun, learning and exploring or just being more productive in your daily life.

Music
Easily browse through album cover art and lists organized by artist or genre. Sync, stream, or transfer music to a wide choice of portable players. Visit a variety of online music stores and video services to download media.

TV and Movies
Take control of your TV viewing experience: Schedule recording of favorite shows, using a free-of-charge 14-day programming guide. Pause live TV for up to 30 minutes and burn TV shows or movies to DVDs. Use Movie Finder to browse what's on, view reviews, order by ratings, and enjoy DVD cover art.

Photos and Video
Import, edit, view, and transfer digital photos.
Use the touch-up tool to crop, adjust contrast, and remove red-eye. Create, edit, view, and share video memories, right on the TV.

Online Spotlight
Using this built-in portal, your can download movies, view previews, and learn about the latest films. Listen to Internet radio stations. Browse websites and download software designed for Media Center PC users.

The Media Center Extender
Taking advantage of your home network, these devices extend the Media Center PC experience to TVs or displays in any room in the home. You can gather the family in the living room, press the green button, and enjoy all the videos, TV, music, and photos that are stored on the Media Center PC, even if it is located in a different room of the home.
Easy access to the digital media - pictures, music, videos, live and recorded TV - from anywhere in the home.
One user can watch a movie using Windows Media Center Extender in the living room while another browses through the family's music collection on the Media Center PC in the den. Up to five different instances of Media Center Extender devices can run at the same time.
Works with what you have - Extender devices can hook up to almost any TV display or home theater system.
Supports high-speed wireless or wired home network connections with the Media Center PC.
Intuitive setup wizard guides users through installation making it easy to get going.
Supports the new features found in Windows XP Media Center Edition including dual tuner TV support, Electronic Program Guide, and expanded selection of Media Center add-on applications and services.
Contact Us to arrange a demonstration or to request more information on the Media Center PC.





Complete our online request form and a Personal Computing technician will contact you. Download our brochure to your left to learn more.


Personal Computing provides complete installation and set-up services to help you maximize your media center experience. Contact us for rates or to schedule a Media Center demo.