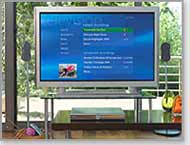 Microsoft® Windows® XP Media
Center Edition 2005. Experience more of the digital entertainment you want in your home... enjoy photos, music, television, movies, and learn more about this incredible technology. More...


The digital age has become a reality. Why not surf the web from the recliner or the deck? Create a secure home network and share resources such as internet access, printers, media and other files. Imagine coming home from work, kicking off your shoes, and having all of your entertainment, information, and even surveillance needs right at your fingertips.


Setting up a Home Office? We can help. You'll need one or more computers (Desktop or Notebook), monitors, printers, software and other equipment. We can provide all of these, do the networking and get it all to work together smoothly for you. If you are a "telecommuter" we can work with the corporate IT department to get you connected. We can do it all. Need equipment like a projector for a short term? We can also arrange for rentals. Talk to us, we're your partner.


"I'm not expecting anyone… I wonder who it could be?" Feeling safe in your own home can be as easy as installing an integrated surveillance system attached to your PC. Whether you have a family to protect or simply want piece of mind, a surveillance system can help put you at ease. From motion sensor activated to remote access, Personal Computing provides an array of quality systems.
Nighttime Surveillance
Front Door, Backyard, Mailbox and other presets
24/7 Remote Access over the web
Nanny Cams - wired or wireless
Remote Ceiling mounted
See what we have to offer on our Desktop and Notebook computers pages.







Complete our online request form and a Personal Computing technician will contact you. Download our brochure to your left to learn more.


Personal Computing provides complete installation and set-up services to help you maximize your media center experience. Contact us for rates or to schedule a Media Center demo.