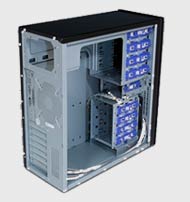 Custom Built Desktops
Personal Computing will design and build custom PCs to address your current needs from general purpose office PCs to high end workstations, and many variations in between. Our philosophy is to supply a PC which can be upgraded or re-purposed as needs change. What may be "good enough for now" is rarely good enough later. Even a basic PC now needs to multi-task with firewalls, anti-virus, and anti-spyware running in the background. Companies offering very low end PCs based on price do a disservice to their customers. At Personal Computing, we will never supply a PC that won't properly do the job. Our customers and our reputation are too important to us to just sell a PC. If you are looking for a PC, we will start with a conversation around your needs and desires for what you want to do with the PC. Only after that do we talk about models and specifications; and especially for business PCs, we focus on the total cost of ownership.

Here are a few examples of some of the configurations that are possible:

General Office PC
Intel® Core™2 Duo processor & 4 MB Cache
2 GB DDR2-667 Dual Channel RAM, upgradeable
SATA Hard Drives (up to 4), RAID 0+1 possible
Choice of CD, DVD, CD writer, DVD writer; up to 2 drives
Floppy Drive (yes, just in case)
On board graphics (output to monitor) upgradeable with PCI Express slot
On board Gigabit Ethernet
On board High Definition Sound
Up to 8 USB 2.0 Ports
Multi-Display PC for Financial Services or other specialty applications

Intel® Core™2 Duo processor & 4 MB Cache
2 GB DDR2-667 Dual Channel RAM, upgradeable
SATA Hard Drives (up to 4), RAID 0+1 possible
Choice of CD, DVD, CD writer, DVD writer; up to 2 drives
Floppy Drive (yes, just in case)
PCI Express graphics output to up to 4 displays
On board Gigabit Ethernet
On board High Definition Sound
Up to 8 USB 2.0 Ports
Multimedia PC
Intel® Core™2 Duo processor & 4 MB Cache
2 GB DDR2-667 Dual Channel RAM, upgradeable
SATA Hard Drives, up to 4-750 GB each, RAID 0+1 possible
Choice of CD, DVD, CD writer, DVD writer; up to 2 drives
Floppy Drive (yes, just in case)
9-in-1 Card Reader
PCI Express x 16 Graphics Adapter with optional display to 2 monitors and TV or Projector, optional TV tuner with TiVo type functions and video capture and editing
On board Fast Ethernet, optional Gigabit and/or Wireless networking
On board or add-in Digital High Definition Sound up to 7.1 Surround Sound
Up to 8 USB 2.0 and Firewire (1394) ports
Workstation for Graphics or CAD
Dual Xeon Processors with Hyperthreading 64 Bit enabled
Up to 8 GB DDR ECC RAM with advanced features
Choice of up to 6 SATA or U320 SCSI Drives, fixed or Hot-Swappable in most RAID configurations.
Choice of CD, DVD, CD writer, DVD writer, Tape; up to 2 drives
Floppy Drive or other media
PCI Express Graphics Workstation card
On board Gigabit Ethernet
PCI Express, PCI 64, & PCI 33 slots
Media Center PC

Experience more of the digital entertainment you want in your home with Microsoft® Windows® XP Media Center or Windows Vista with Media Center. Media Center PCs provides a simple, convenient way to enjoy photos, music, television, movies, and more while delivering the home computing capability you expect from Windows.





Multi-Display PC for financial services or other specialty applications. Contact us for pricing.


Complete our online request form and a Personal Computing technician will contact you. Download our brochure to your left to learn more.


Personal Computing provides complete installation and set-up services to help you maximize your media center experience. Contact us for rates or to schedule a Media Center demo.