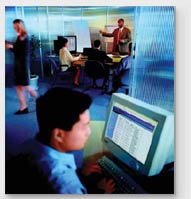 Servers for Your Small Business
Windows Small Business Server 2003
As a small business, you have limited time and resources to get the job done and keep your business running. Technology can simplify your daily activities while saving you time and money.

Designed with your company needs in mind, Windows Small Business Server 2003 is a complete and affordable network solution. With Windows Small Business Server 2003, you can have confidence that your data is secure, untap new productivity from your desktops, empower your employees to do more, and connect to your customers like never before. Read the data sheet to learn more.

Intel® XeonTM processor-based servers

Boost customer service
Customer satisfaction has never been more important. Imagine if all your customer records and interactions were located in one place where they could be accessed, analyzed, and summarized to provide superior customer service and intelligent marketing. Every contact with every customer would become an opportunity for a closer, more personalized and more profitable relationship.

Gain better financial insights
Are your company's financial records scattered across several PCs, file cabinets and offices? Imagine the power of having them in one centralized location with sophisticated analysis software to help you obtain a more complete perspective of profit and loss centers, see trends, make projections, manage your cash flow and make better decisions overall.

Make customer interactions count
Imagine analyzing traffic on your Web site and sending personalized e-mail to your customers. Imagine arming sales people with high-impact, graphically-rich marketing materials to drive up-selling and cross-selling opportunities with your customers. Do all this and more using powerful Intel® Xeon™ processor-based servers. These servers can host your Web site, run content creation and management applications, customer relationship management (CRM) software, you name it.

Communicate and collaborate securely
Wouldn't it be nice if everyone in your company could operate off the same up-to-date business data all the time, in the office or in the field? If employees could access key business documents at home or in the office? Or, if sales people could work from the same up-to-date pricing or customer information while away from the office. It's both possible and affordable using Intel® Xeon™ processor-based servers.

Use your valued resources efficiently
Do you have an accurate picture of your business right this minute? Do you know precise inventory levels, sales figures by region and other business-critical metrics? Wouldn't you make better decisions if you were listening to such business "heartbeats" every day? With the appropriate software tools running on an Intel® Xeon™ processor-based server, your business can gain the kind of valuable insights that have traditionally been available only to large corporations.





Multi-Display PC for financial services or other specialty applications. Contact us for pricing.


Complete our online request form and a Personal Computing technician will contact you. Download our brochure to your left to learn more.


Personal Computing provides complete installation and set-up services to help you maximize your media center experience. Contact us for rates or to schedule a Media Center demo.